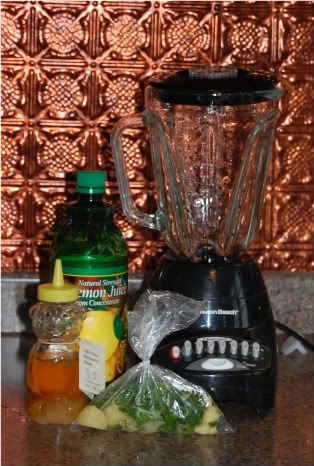 Last month's All You magazine included a recipe for a 90 calorie morning drink designed to reduce bloating and puffiness due to water retention. I thought that sounded like a good idea, and I've been looking for something refreshing to replace my morning Diet Coke, so I decided to give it a whirl. Due to the parsley, it has a really unique flavor, but it has a nice refreshing bite to it that helps to replace the fizzy carbonation I'm used to in the morning.
Blend ingredients until very smooth (you don't want any little parsley bits floating around).
1 cup fresh flat-leaf parsley (leaves and stems)
1/4 cup pineapple (fresh, frozen, or canned-no sugar added)
2 tsp honey
1 inch fresh ginger, peeled and grated
1 Tbsp fresh lemon juice
1/4 cup water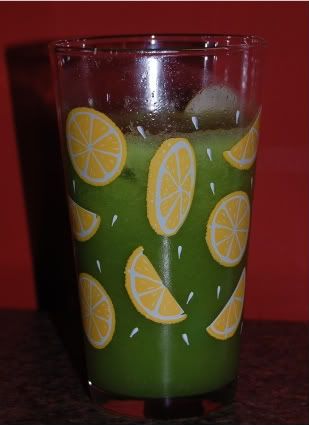 I also like to throw in a few ice cubes to make it really chilled. I prefer it sipped through a straw, since there may still be some floaty parsley bits that go down better through a straw.